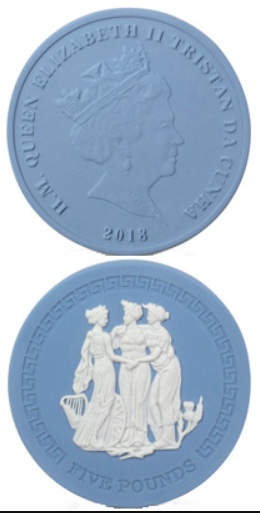 In October, the Commonwealth Mint announced the world's first Jasper Ware legal tender coin: a 65 mm £5 produced for Tristan da Cunha.
Jasper Ware is a type of stoneware developed by Josiah Wedgwoodin the 1770s. It is manufactured in a range of different colors. The most common is a pale blue, known today as Wedgwood Blue. It is the colour of the new coin.
White relief decorations are characteristic of Jasper Ware. They give a cameo effect on the reverse of the coin, which comes adorned with the Three Graces, the daughters of Zeus: Euphrosyne (Mirth), Aglaea (Elegance), and Thalia (Beauty). The presence of a harp, thistle, and shield embellished with the Union Jack point to the three acting as avatars for Britannia, Scotia, and Hibernia.
Mintage is 3,000, reflecting the number of trials Wedgewood used to perfect his Jasper Ware. The coin comes with a "WEDGWOOD / ENGLAND" edge-mark.
This article was originally printed in World Coin News.