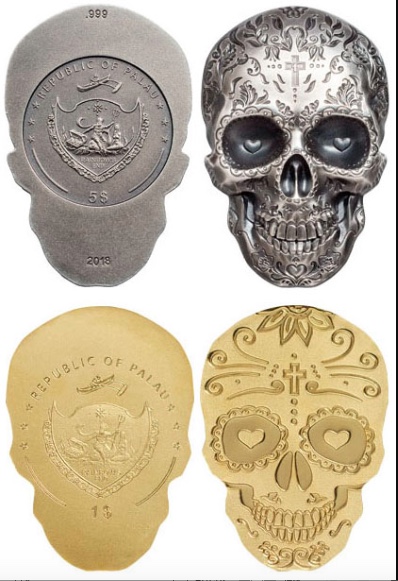 Skull coins made for Day of the Dead
Posted on September 17, 2018 by World Coin News Staff  
Skull coins struck by Lichtenstein's Coin Invest Trust for the Republic of Palau have proved highly popular. Two new issues were announced at The American Numismatic Association World's Fair of Money in August in Philadelphia. Both commemorate October's El Día de los Muertos – Day of the Dead: a 25.5×38.3 mm, 1 oz .999 fine silver $5 struck using Smartminting® and with an antique finish, and a 13.92 mm, 0.5 g .9999 fine gold $1 with a silk finish. Mintages are 1,750 and 15,000 respectively.
Palau's latest skull coins that mark the Day of the Dead. (Images courtesy Coin Invest Trust)
These are the most elaborate CIT skull coins to date. The design of their reverses is based on "La Calavera Catrina" the "Dapper Skeleton" or "Elegant Skull" etching by José Guadalupe Posada that is now very much part of El Día de los Muertos.
Skulls are associated with Halloween in the United States, but these actually mark an observance of remembering those who have passed.
Numismatists wishing to add to their skull collection can check out the CIT website: www.coin-invest.li/. If they are sold out, try your favourite dealer, or perhaps eBay.
This article was originally printed in World Coin News.