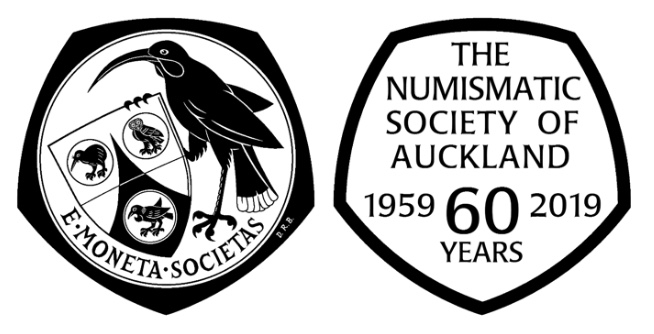 It is the intention of the Numismatic Society of Auckland to mark its 60th anniversary with a commemorative medal which has been designed by a member, Roger Barnes.
The 38mm medal will be struck in sterling silver (40 pieces) and in copper (60 pieces), and will be available at NZ$95 and NZ$25 respectively, with delivery at cost. 
The striking design is a departure from tradition and includes the badge of the Society, which Roger Barnes has also created.
To order a medal or medals please email, stating the number desired, to:
jimchris.d@xtra.co.nz
Prepayment is not being sought, but orders will be treated as a commitment to purchase.   The medal will come with an explanation of its imagery.