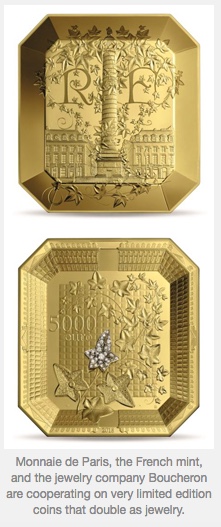 Designing coins is a craft. So is designing jewellery. While it has been argued in the past that the line separating some medallic art from sculpture may be nebulous, the line between what constitutes a coin and what should be called jewellery has not been addressed. The French Mint, Monnaie de Paris, and jewellery manufacturer Boucheron plan to address this latter issue through an unusual partnership between the two organisations.
According to the Boucheron website, "Innovation, creativity and craftsmanship have been at the core of Boucheron's creations for 160 years." Frédéric Boucheron founded the business in 1858. Since that time, it has been managed by four generations of the Boucheron family. The business has since been acquired by Kering, a luxury group whose holdings include Gucci and Saint Laurent.
Monnaie de Paris has been striking coins since the year 864. In modern history, the mint has produced fine art medallions in addition to coins.
The mint invited some of France's best craftsmen to design limited edition coins marketed to collectors in 2010 through its "Excellence a la Francaise" programme. Baccarat, Cartier, Manufacture Nationale de Sèvres, and Van Cleef & Arpels collaborated with the mint through this programme.
The Paris minting facility was renovated between 2011 and 2014. In 2014, the mint launched a programme of contemporary art exhibitions.
Today, the French mint has state-of-the-art enamelling, engraving, and jewellery workshops in which more than 300 craftsmen produce gold coins, medallions, and official decorations. Circulation coinage is struck at a facility in Pessac, while artistic work is produced in Paris.
The November 2018 issue of Art World magazine described the partnership between the mint and the jeweller as calling for "their respective craftsmen to marry their ancestral traditions to produce a collection of limited-edition coins – part jewellery, part numismatic collectable – to appeal to connoisseurs of high craftsmanship."
Monnaie de Paris Marketing and Development Director Claude Giffin said, "The Monnaie identified Boucheron as one of the most innovative of French jewellers. Given that collector coins evoke celebrations, we decided that it would be fantastic for the 2018 edition of Excellence à la Française to coincide with Boucheron's 160th anniversary."
The new coin-jewellery collection will be highlighted by a massive 2.2 pound octagonal 5,000 euro meant to resemble both the shape of Place Vendôme and that of an emerald-cut stone. The coin will be set with a Boucheron motif diamond-studded ivy leaf and will be produced in an 11-piece edition.
Other coins will include gold and silver pieces with face values between 10 euro and 500 euro. The 200-euro gold and 10-euro silver coins are shaped like an ivy leaf.
Boucheron Creative Director Claire Choisne said, "We had dreamed of coins that would not be round, but more like a piece of jewellery with a realistic design to give them more life. That produced the ivy-leaf coin in high relief."
French Mint Creative Director and Principal Engraver Joaquim Jimenez added, "We agreed that the coins would represent ivy growing out of Boucheron's maison and onto the Place Vendôme, virtually invading the square and its paved surface. For the main coin, we engraved the piece and Boucheron produced the diamond-set leaf, which was then fitted onto the coin. It was a work of high precision and true collaboration."
This article was originally printed in World Coin News.