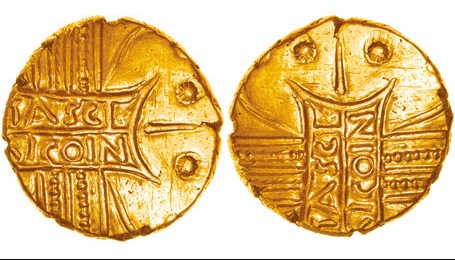 Celtic gold in November sale
A metal detectorist in Britain has unearthed a 2,000-year-old coin error. It occurs on a rare Iron Age gold stater of King Tasciovanos ("Badger-Killer") who ruled the Catuvellauni of Hertfordshire around 25 B.C.E. to 10 C.E.
The usual legend of his coins reads TASCI RICON (or RIGON) that translates as "TASCIOVANOS HIGH-KING." The error reads RICOIN.
Celtic specialist Elizabeth Cottam asks, "Was this the first time that the word "coin" appeared on a British issue?" She notes that "two later dies return to RICON which indicate this (or RIGON) was the correct spelling."
She suspects the king was not amused but points out that there is funny side to the error. If the coin is rotated 90° it shows a stylised smiling face of a benevolent Celtic god.
It is one of eight known RICOIN error gold staters that will be auctioned on Nov. 18. The first was found in 1884 and belonged to Sir John Evans, author of "The Coins of the Ancient Britons." He spotted the spelling mistake but not the smiley face. 
The coin will be auctioned in Aylsham by Chris Rudd (https://celticcoins.com/).